The Design
The main designer of the Hof Cultural Center is Arkþing.
All furniture and equipment in Hof is designed and manufactured by Sýrusson. The designer and owner of that company is Reynir Sýrusson.
The seats in Hof's main hall, Hamraborg, are also of Icelandic design, from Prologus. The seat covers are designed so that if a seat is empty, it still appears as if they are occupied by a man in a suit. By virtue of this design, empty seats do not affect the acoustics.
A competition for the design of Hof was held in 2004.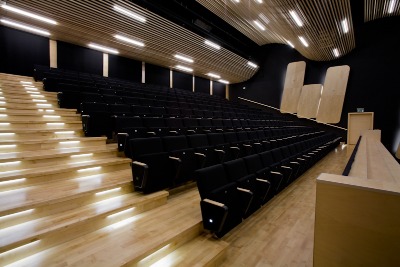 33 proposals were submitted and the judges chose the proposal from Arkþing. A circle was designated as the building's primary motif. Through the building there lies a kind of a "river" or" walkway" that divides the building into two parts. The outer framing of the building is Icelandic columnar basalt.
During the design phase an additional floor (the third floor) was added for the town's local music school. The idea was that a music school in the building would give the cultural center more life and more possibilities for sharing the spaces while simultaneously providing the music school with the best possible facilities. Planning regarding the size and cost of the facilities intended for the music school began. The plans anticipated 1200 square meters in addition to 600 square meters with the sharing of the operation and facilities of the cultural center.
An agreement was signed with the designers of the building after a competition in June 2005 which included the decision to design the music school in tandem with the cultural center. The total size of Hof was anticipated to be 4700 square meters.
The name - Hof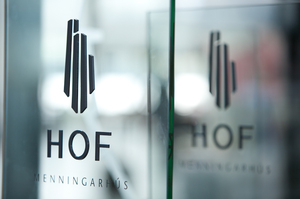 A competition for the name of the building met with extremely good participation.
In total, 338 proposals for 241 unique names were entered into the competition.
The panel of judges for the competition consisted of advisor Bragi V. Bergmann, ceramics artist Margrét Jónsdóttir, and Sverrir Páll Erlendsson, a high school teacher. Their decision was unanimous, the name of the building would be Hof.