The Building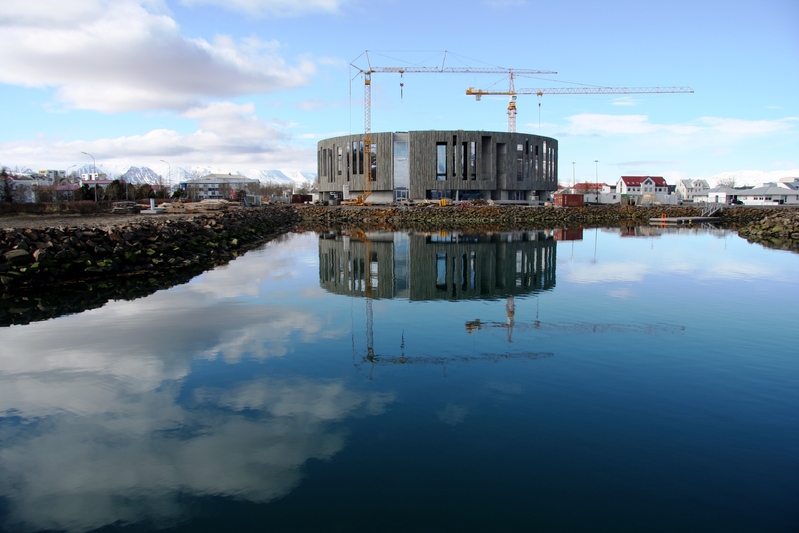 The groundbreaking for Hof was held on Saturday July 15, 2006, but constructions began in August 2006. When the construction of the building´s foundation began, a signifiant subsidence emerged causing a lack of uniformity across the soil so the decision was made to build a basement under the building.
Due to the addition of this 2300 square meter basement and various changes in the designing phase, the center was 537 square meters larger than originally planned. This led to a larger restaurant area, shopping space, music school, and space in front of the primary music hall and other various reforms. Ultimately, with all of these significant changes considered, the project ended up looking much different in comparison to the data which sparked the original design competition-the gross size of the building more than doubled, going from 3500 sqaure meters to 7413 square meters.
The columnar basalt on the outside boarding of the building was sourced from a mine in Hreppshólar in Hrunamannahreppur.  The total weight of the basalt is 300 tons and the surface area is 1600 square meters.
The main designer of the cultural centre is Arkþing. The company´s main associate partners were:
The main contractors were:
Árni Helgason (soil exchange and foundation design service)
Ístak hf (concrete work)
Rafmenn ehf. (electrical system)
Útrás ehf (steel construction)
Klemenz Jónsson ehf, (linoleum work)
Völvusteinn ehf (plaster walls e.t.c.)
Blikkrás ehf (air conditioning)
KONE ehf (elevators)
Málningarmiðstöðin (painting)
Magnús Gíslason ehf (plastering)
Haraldur Helgason (plumbing)